On August 4th, we saw Bomberger's Declaration and Shenk's Sour Mash added to the North Carolina ABC Stock sheet. These whiskeys may have been available here in the past, but not for a couple years at least. They have, however, been available outside of the state. Here's what you need to know.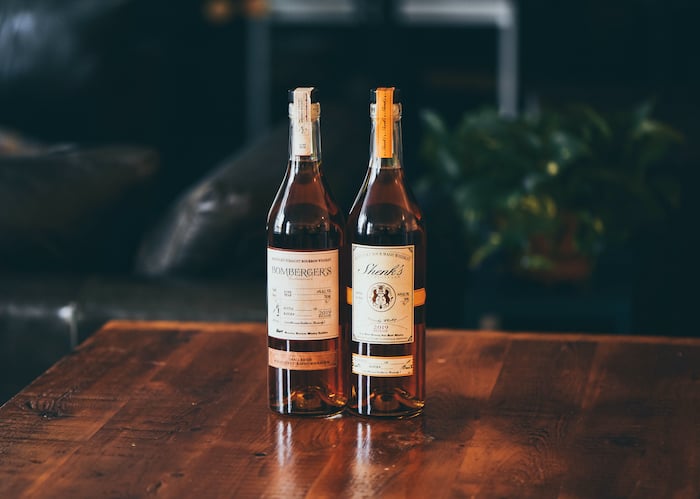 Shenk's and Bomberger's: A History
Shenk's Sour Mash and Bomberger's Declaration are enigmas to some in the whiskey community. There's a loose (or not so loose) connection with Michter's. So what's the truth about these two special bourbons?
Most of the bottles you know from Michter's Distillery, like the US*1 collection (Unblended is coming to NC soon, too), Barrel Strength Bourbon and Rye, or their Toasteds, are all sourced distillate that Michter's barrels, ages, and bottles according their specialties. Bomberger's and Shenk's aren't included in the standard Michter's offerings, but it does say "Bottled By Michter's" on the labels.
Actually, Michter's wasn't always called Michter's. The distillery was first founded waaayyyy back when the United States was in its infancy by a Swiss Mennonite farmer name John Shenk. In the mid 1800s, the distillery has switched hands and was renamed Bomberger's. This name held until sometime in the mid 1900s when the named changed once again to Michter's. This "Legacy Series" from Michter's pays homage to their roots as one of the oldest distilleries in the country.
Shenk's Sour Mash Whiskey
According the aforementioned stock sheet, this bottling of Shenk's Sour Mash Whiskey is aged 6 years. Technically, this whiskey is neither a bourbon or a rye. The designation of Kentucky Whiskey is given despite what is likely a rye-forward mash bill. This whiskey is aged in toasted French Oak barrels and bottled at 91.2 proof (45.6% ABV).
If you weren't able to get your hands on 2019's special Michter's Toasted Barrel Sour Mash, I'd imagine you can get a good feel for what it tastes like by trying out a Shenk's. Shenk's Sour Mash will be sold in North Carolina ABC store at $89.95.
Bomberger's Declaration Kentucky Straight Bourbon
Bomberger's is, in fact, a real bourbon. It's at least 51% corn in the mash bill and aged at least 4 years in new charred American white oak barrels. From what I can tell, there is no official age statement on this bottling, but one might come with the actual bottles when they hit shelves. It's listed at 108 proof (54% ABV), which is higher than most Michter's offerings. This one will retail in NC for $99.95.
NC Availability
There's no word as of yet on how allocated this release will be in North Carolina. There's usually decent availability in neighboring states, where it's often found on shelves and rarely marked up to exorbitant secondary prices. It will likely be scarce at first as the excitement of something new tends to add extra demand against a limited supply, but hopefully over time it will be more readily available.
As always, keep an eye on your local ABC and hopefully they'll get it in soon.
More Info
If you found this helpful and want to stay up to date on the Shenk's and Bomberger's release, or get information about other limited releases and NC ABC news, join our mailing list: