Update: Elijah Craig Straight Rye is now hitting shelves across NC. Wake County put bottles out on February 26th. They might be going fast, so check your local store. Cheers!
If you're from North Carolina and you're like me, you're probably used to missing out on great limited whiskey releases. So, when Elijah Craig announced the 2020 release of Elijah Craig Straight Rye to a limited market of 4 states, I figured there was no way we'd see it until the national release. But, if you've been following along, you know that North Carolina is actually one of the lucky states to pilot this new flagship from the historic distillery.
When Will Elijah Craig Straight Rye Be Released in NC?
According the release statement by Heaven Hill, Elijah Craig's Rye whiskey should hit markets in North Carolina in "early 2020." That's the most official statement we have from them so far. A little sleuthing may give a little more detail.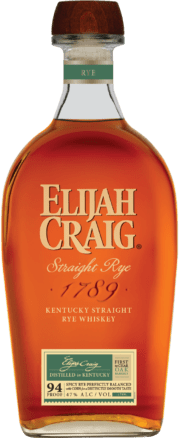 On November 18, 2019, the North Carolina ABC added Elijah Craig Straight Rye to their Price List. This means that Heaven Hill has been in contact with the board and preparing for shipment and release. The ABC board needs to have the pricing and tax details in their systems so that local community ABC Boards can place their orders from the state warehouse. It's safe to assume that North Carolina residents could see the new Elijah Craig offering as early as January 2020.
What Is Elijah Craig Straight Rye?
Elijah Craig Straight Rye whiskey is the newest rye release from Heaven Hill Distillery, and the first rye with the Elijah Craig name. A lot of the information about this release is similar to the standard Elijah Craig Straight Bourbon. Here's what we know about the vitals.
Elijah Craig Straight Rye Mash Bill
The mash bill might be considered a "low rye" bill. Elijah Craig rye clocks in at 51% rye, 35% corn, and 14% malted barley. It just makes the cut, but it should be a good enough mix to give it a nice sweet-and-spice palate. For reference, Buffalo Trace's Sazerac Rye 6 Year is also 51% rye.
EC Rye Proof and ABC
Similar to the Elijah Craig Small Batch Bourbon, the Rye offering is bottled at 94 proof, or 47% ABV. There is no age statement on this rye whiskey.
North Carolina residents can look forward to a reasonable price tag of $29.95 plus tax. This should but Elijah Craig in direct competition with similarly priced options like Rittenhouse Bonded Rye ($25.95) and Old Forester Rye ($24.95). It will likely be a good daily sipper or mixer for your old fashioned. We'll try to get our hands on it for a review as soon as possible.