Here's another bottle you'll probably never get your hands on. In 2022, keep your eyes on shelves and retailers for a new release from Buffalo Trace Distillery: Colonel E.H. Taylor Barrel Proof Rye. As of now, we don't actually have an official press release from the distillery, but we'll make sure to update this page as soon as we do. Sign up for our mailing list to stay up-to-date with the latest details.
Everything We Know About E.H. Taylor Barrel Proof Rye
So if there's no official announcement from Buffalo Trace Distillery, how do we know this whiskey is coming? In December 14th, 2021, a bottle label was approved by the United State Tax and Trade Bureau (TTB). This label is both a teaser and promise of more details to come. So based on the label and application, what do we know about the 2022 E.H. Taylor Barrel Proof Rye?
Obviously, this is a Buffalo Trace Distillery product produced in the Colonel E.H. Taylor brand name, by "The Old Fashioned Copper Distillery" (the name used on the label). It's approved by the TTB as Class/Type 102, which is the code for "Straight Rye Whiskey". Nothing too surprising there, from the label application form.
The actual proposed label for EHT Barrel Proof provides a little bit more information, though. The name, of course, indicates that this is a Barrel Proof expression of the E.H. Taylor Straight Rye. The label also indicates that this is Uncut and Unflitered. Sometimes labels like "Barrel Proof" and "Full Proof" can seem synonymous. Full proof whiskeys may still be cut with water back to the original proof at which they were added to the barrel (this is how Weller Full Proof is bottled). The Uncut and Unfiltered description lets us know that no modification are made. No water is added.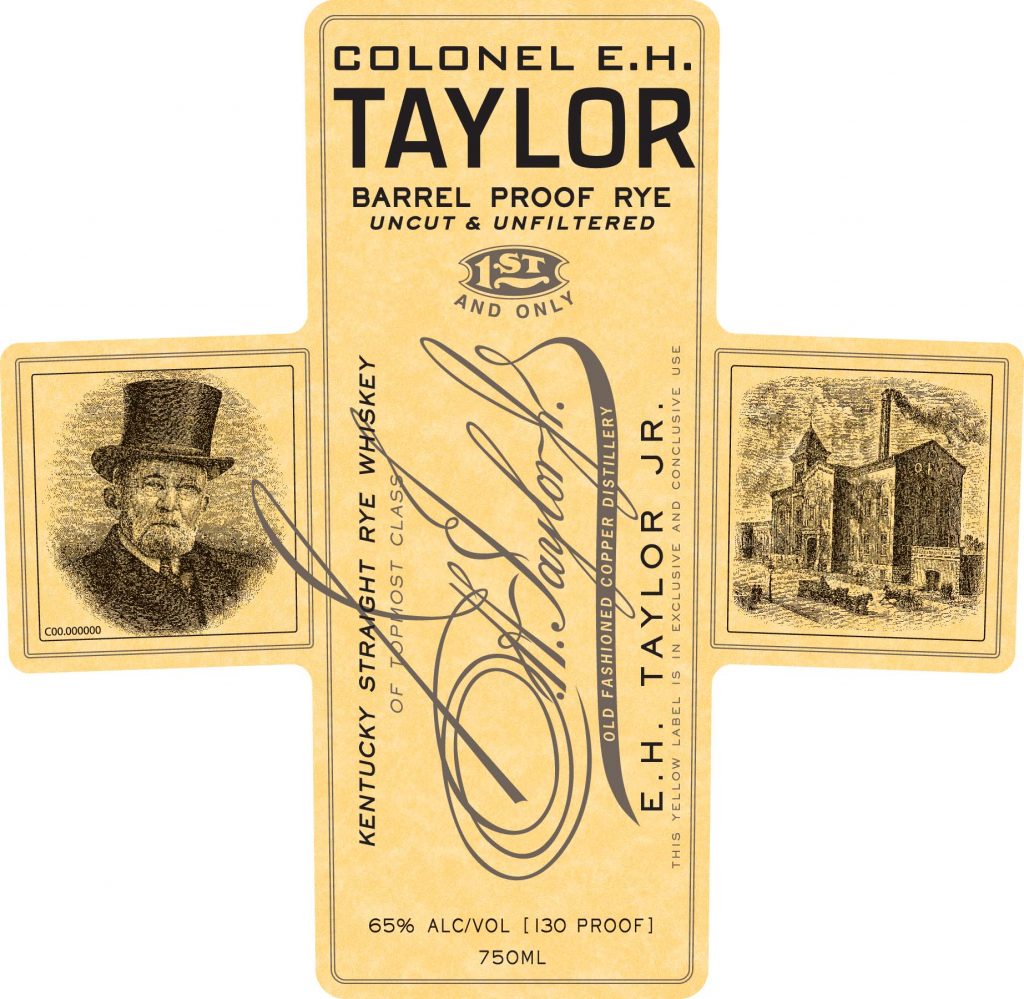 So, what "proof" is Barrel Proof? The label indicates 130 Proof (65% ABV), but that's almost certainly a placeholder. The final proof will likely be somewhere in this ballpark, but will ultimately be determined by the final proof of all the barrels that are included in the final batch. The bottle proof will be the average proof of each barrel at the time it is batched and bottled. This is the same reason each "batch" of Stagg Jr. is a different proof.
How Much Will EHT Barrel Proof Cost?
As of now, there is no indicated MSRP for E.H. Taylor Barrel Proof Rye, so we can't say for certain how much it will cost. The barrel proof bourbon has an MSRP of $75, and Warehouse C (the last limited release) had an MSRP of $70. It's likely this new special release from the Colonel EH Taylor Brand will fall somewhere in this ballpark. We'll update you when we know more.
Is EH Taylor Barrel Proof Rye a Limited Release?
Bourbon fans eagerly await the annual releases of E.H. Taylor Barrel Proof Bourbon, so it's a reasonable to ask if the Straight Rye equivalent would follow suit. The back label of EHT Barrel Proof Rye indicates that this is a limited release, so for now we should expect to see this only in 2022. That's not to say it couldn't become a regular release in the future (it would certainly be easier to produce than EH Taylor Amaranth or Warehouse C). For now, get it while you can.
Here's the exact text from the label:
Colonel Edmund Haynes Taylor Jr. had uncompromising standards for high quality whiskey that set the stage for the modern day whiskey boom. The barrels selected for this limited edition barrel proof rye release were selected in his honor & with a similar standard so only whiskey deemed of "Topmost Class" was bottled uncut and unfiltered to allow for this full-bodied expression of E.H. Taylor Straight Rye Whiskey. The Barrel Proof Rye release is a testament to its namesake and the measures he took to ensure that all of his whiskeys were of unmatched quality.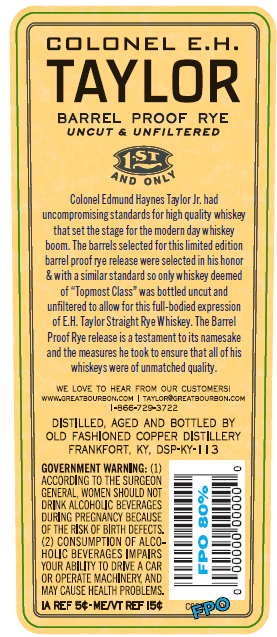 Will EHT Barrel Proof Rye be available in North Carolina?
While we don't have an official distribution list for the EHT Barrel Proof Rye limited release, there's no reason to think this straight rye whiskey would not come to North Carolina. The NC ABC system will certainly get some kind of allocation, and will likely retail at or near MSRP. Keep an eye on our NC ABC Stock tracker to know when it hits the state warehouse.