This whole NC Whiskey thing came about because I was getting really into bourbon. And there's a lot of bourbon — bourbon should be enough! But, times change and new adventures beckon. Scotch was always sitting there on NC ABC shelves tempting and taunting, but it was an entire world away. Different rules and criteria, different age statements, cask types, mash bills, and flavor profiles — where do you even start?
My initial foray into the world of Scotch whisky was similar to that of bourbon: a shared pour at the recommendation of a friend. There's a lot of variation in Scotch, though, so it's always been hard to pinpoint what I like and why I like it. And buying dozens of expensive bottles to try everything and seek out my palate seemed like more work then was worth.
Enter The Scotch Malt Whisky Society: a casual, accessible scotch whisky club with a highbrow name. Whether you're like me and really want to dip your toes into the deep ocean of Scotch for the first time, or if you're a seasoned veteran of the spirit, I've got to recommend Scotch Malt Whisky Society as a solid springboard.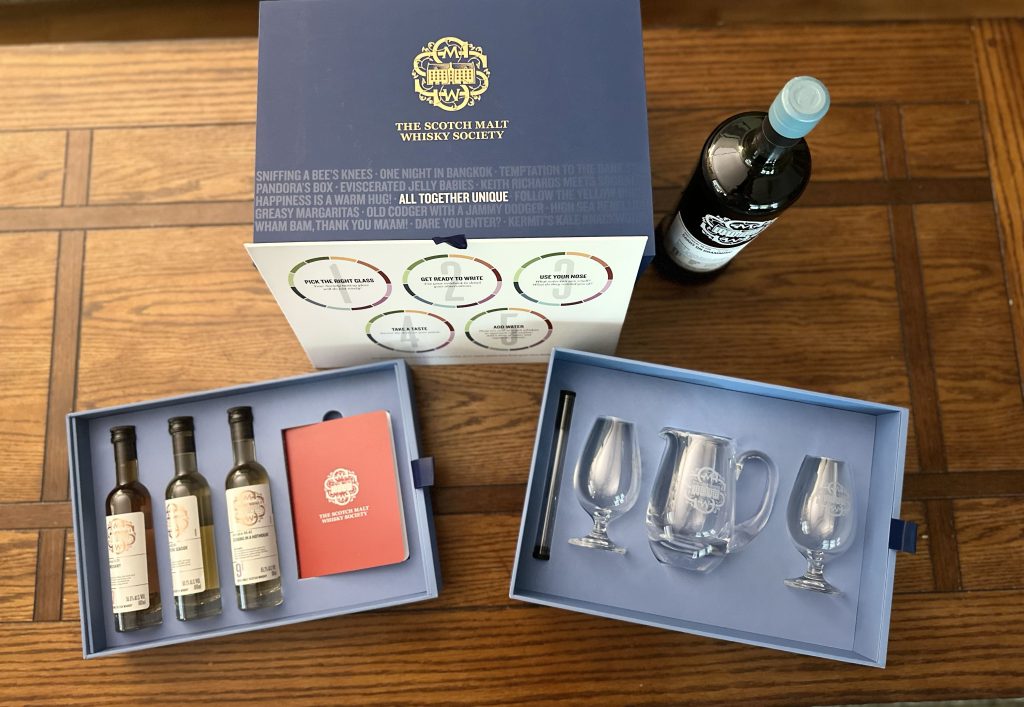 Why Is The Whisky Good?
Look, I'm the first to admit I know very little about scotch (for now). But applying what I know about bourbon, here's what stands out to me about the scotch from The Scotch Malt Whiskey Society:
First, it's all single-cask scotch. Each bottle or run comes from one cask that their experts have specifically selected and bottled exclusively for members. This means every bottle is, in bourbon terms, a Single Barrel Select pick. And, it's all cask-strength, so no dilution, only flavor.
Second, it's not all mass-produced scotch. A lot of what we get in the United States is from a handful of big scotch distilleries. But just like distilleries in the U.S., some of the best scotch is actually produced at smaller operations. Tariffs, trade, and demand all make it difficult for these smaller distilleries to distribute product to the United States. Many of the casks that SMWS selects for their members come from these small distilleries, so we get access to rare scotch we'd have a hard time coming across otherwise.
Third, there's a lot of transparency in the way they bottle that gives great information about the whisky in the bottle. I'll talk in a minute about their labels and tasting kits, suffice to say that their packaging instills confidence that the product inside is worth it.
Making Scotch Accessible
The Scotch Malt Whisky Society makes the world of scotch far more accessible to United States consumers through a program that's much more membership than subscription. As a member of the society, you get access to a vast community of Scotch enthusiasts. Looking for something new, or nervous about buying something you might not like? Members have access to a great concierge service to help field all their questions.
It also makes the spirit more accessible by labeling things in an organized way that's easy to read and understand. For instance, each bottle is color-coded based on the flavor profile of the scotch whisky inside. As you start to refine your palate, you may learn you gravitate towards certain "colors" or flavor profiles. Or, maybe you're adventurous and want to try something new, now you know where to look.
The labels are also super clear about other key vitals. Proof/ABV, age statements, regions, and even the type of cask it was aged in are all vital. Each bottle also has a code that corresponds to the specific distillery where the scotch inside was produced, and the specific cask itself.
Tasting Kit
So yes, as a member you have access to all the exclusive monthly releases of single cask, cask-strength whiskies. But let's take a look at this tasting kit that's also available. Talk about a great way to dive into Scotch!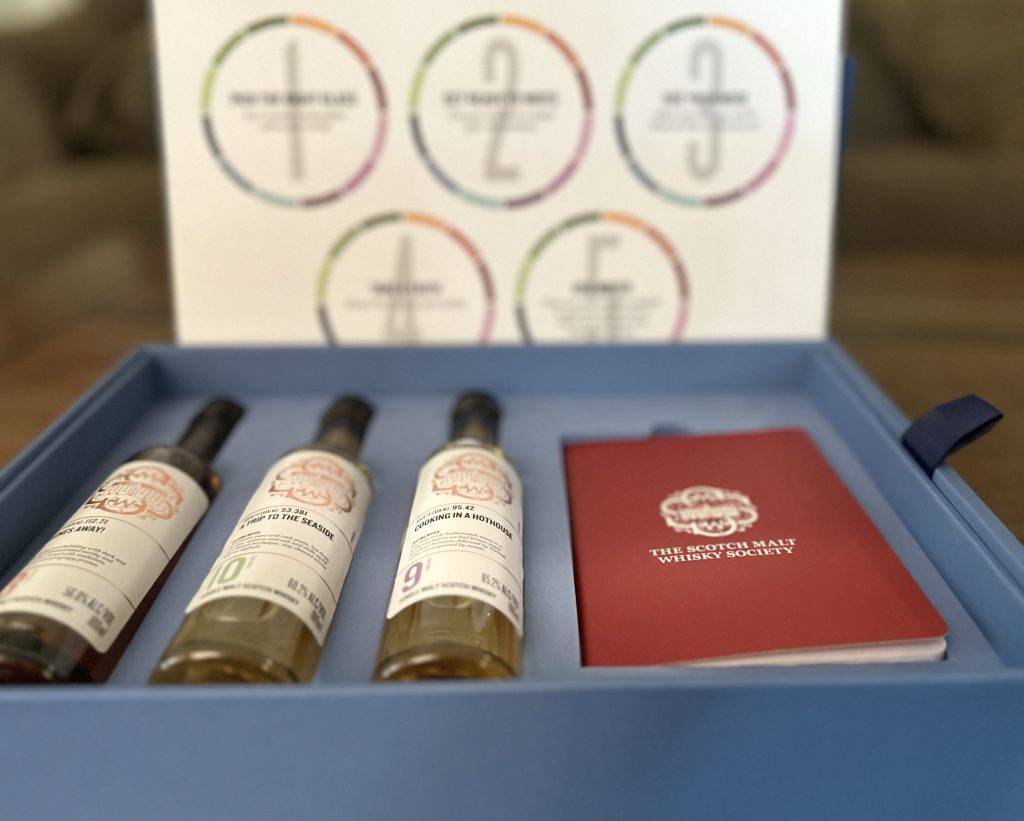 The beautiful presentation of these bottles, notebook, and glassware is unbelievable. They highlight a few different flavor profiles so you can quickly start to place you palate. Take notes on what you like and why you like it, all while doing it in style. I actually appreciate the standardized labels, because it takes the guess work and bias out the equation and lets you evaluate each whisky in it's most raw form.
If you can believe it, one of the scotches that came in my tasting kit rings in at over 130 proof! Personally, I don't mind the heat, but it's nice to have the dropper and be able to add a bit of water. Rather than diluting the whisky, it actually ends up opening the aromas and flavor for a different experience. As I went through the whiskies in the tasting kit and started taking notes, I actually felt like scotch wasn't so foreign to me. All the notes they provide and the details felt accurate to the taste. Maybe eventually I'll develop a liking for peated whisky, but for now I know there are easier, sweeter scotches, and I'll look for those when I'm out hunting.
Is The Scotch Malt Whisky Society Worth The Money?
So, in full transparency, the goods in the box were a gift for me. But I would 100% pay the full price to do it in the future and remain a member. Memberships are just $99 per year, but you can get them with a first bottle or the aforementioned tasting kit and save about $50 on the bottle or the kit. I don't endorse products on here lightly, but I wanted to do a real post for The Scotch Malt Whisky Society because I think it's actually a really great program with good value.
How To Join The Scotch Malt Whisky Society
To take advantage of the great offerings that The Scotch Malt Whisky Society offers, you need to be a member. When you join the club, you'll get a packet with a membership card and a fancy pin for your drinking jacket (if that's a thing?). You can join straight-up for $99, or you can join with a bundle and save about $50, all told. Here are a few bundles they offer:
Tasting Kit + Annual Membership
The Tasting Kit Bundle is awesome. It comes with three 100mL bottles of their exclusive cask-strength scotch whisky so you can try and compare a few different flavor profiles of scotch. The kit also boasts a pretty fancy glassware set that includes two branded snifters, a pitcher, and a water dropper. You also get the little notebook for jotting down you tasting notes. It's all packages really well in a nice box.
The kit, by itself, is valued at $145, and the membership is $99. When you order the bundle, though, it's only $195 all-in, so you save about $50 (I think the savings technically comes off the membership). This bundle would make a great gift, too.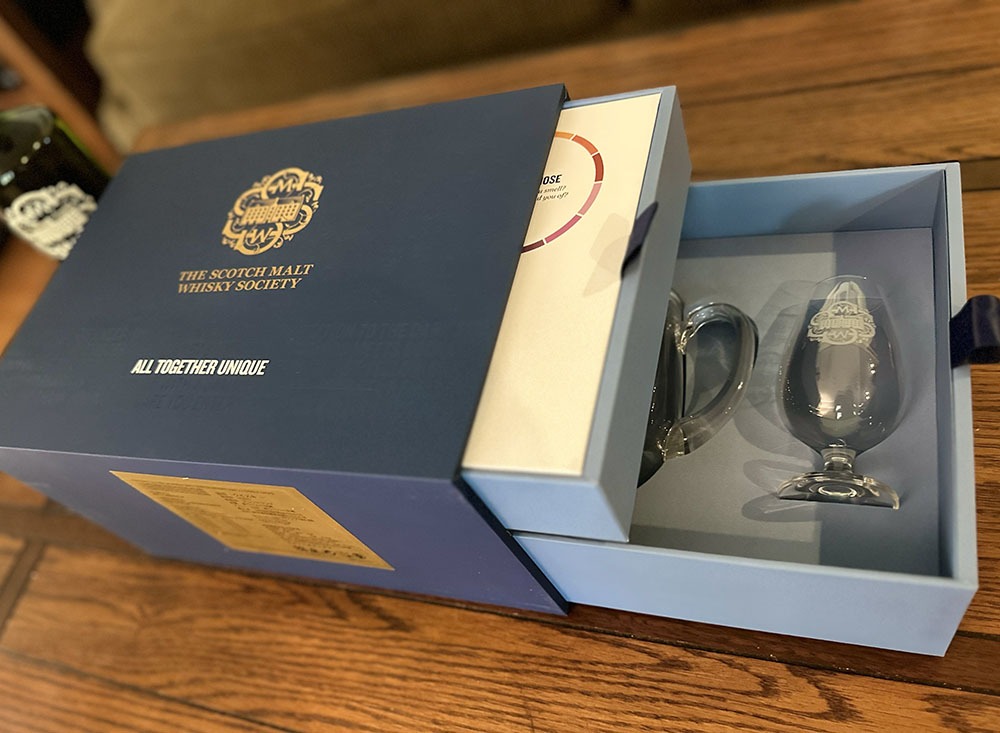 Annual Membership + Bottle of Scotch
If you already have enough whisky glasses on your bar, you may instead decide to opt for a a single bottle of scotch to bundle with your membership to The Scotch Malt Whisky Society. If you go this route you'll get to choose one of three 750mL bottles to accompany your membership. Each of your three choices is a bit different, and are thus priced differently. They offer the same $50 savings on the membership, though.
As of writing this, the bottle options include:
12 Year Speyside ($120 Bottle + $99 membership, bundle price of $170)
10 Year Islay Peated ($125 Bottle + $99 membership, bundle price of $175)
18 Year (!!) Highland ($210 Bottle + $99 membership, bundle price of $260)
I'm not sure how often these options will change (certainly as often as a cask is sold out), but you can see what's currently available on their website.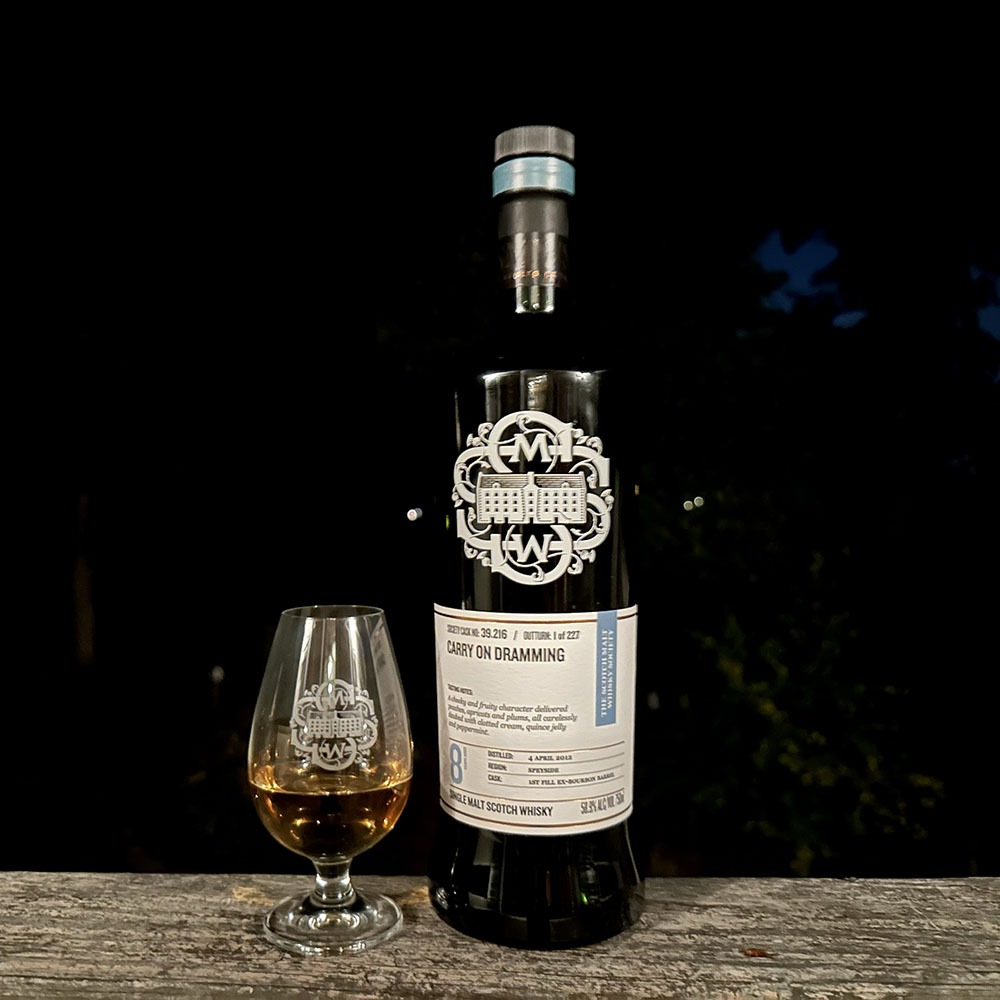 All this to say, scotch is way less scary to me now that I've dipped my toes into the world. I thought it was all just smokey, peaty booze, but I'm slowly learning that the category is way more broad with a lot of nuance, and I really appreciate the Scotch Malt Whisky Society for opening up that world for me.