After the raving success of Maker's Mark Wood Finishing Series RC6 in 2019, the distiller has announced the 2020 release of this new annual limited series. This year's stave choice is titled Maker's Mark Wood Finishing Series SE4 X PR5 (that's a mouthful!).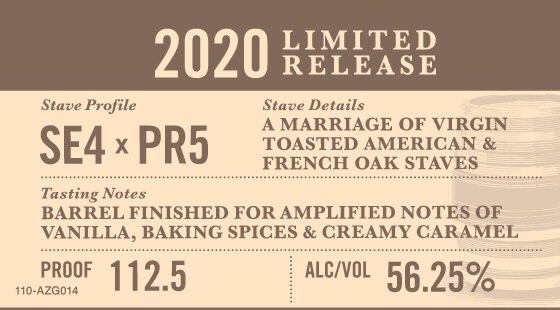 SE4 X PR5 is a denotation that refers to the wood staves used to flavor this Maker's Mark custom batch. If you're familiar with Maker's Mark's Private Selects, then you know a little bit about how their stave profiles work. The difference here is that we actually have two unique stave profiles, married together into one Maker's Mark expression.
The two stave profiles, SE4 and PR5 are uniquely aged with help of the Independent Stave Co. and then married together to create a totally unique expression. At 112.5 Proof (56.25% ABV), Maker's Mark promises "amplified notes of vanilla, baking spices, and creamy caramel."
Maker's Mark Wood Finishing Series 2020
The RC6 2019 Limited Release wasn't too difficult to find. Unlike a lot of limited releases, it showed up in abundance on shelves, not hidden behind ABC store counters or reserved for lotteries. Hopefully we'll see the same treatment in North Carolina for this 2019 version.
Maker's Mark Wood Finishing Series SE4 X PR5 is a 2020 Limited Release developed to accentuate the classic vanilla and caramel notes that MM fans know and love. If you're a fan of Maker's Mark RC6 or Maker's Mark 46, this is a must try release in 2020. At a humble MSRP of only $70, this will be worth searching for on shelves or through online retailers. Keep an eye on Bounty Hunter or others so you don't miss it.