As a Maker's Mark Ambassador, I was thrilled to receive the email this morning announcing the 2021 Limited Release of the Maker's Mark Wood Finishing Series. This year, Maker's Mark has announced two sister releases, FAE-01 and FAE-02. 2019 gave us RC6, and 2020 gave us SE4 X PR5. Both are delicious pours, and getting better. I'm excited to see what the 2021 FAE Limited Releases bring to the table. We'll update this post later in the year when more info about FAE-02 is released, but keep reading for info on FAE-01.
Maker's Mark Wood Finishing Series
Maker's Mark has been leveraging a unique Stave Finishing program for several years now. Their barrel selection program allows for over 1000 combinations of stave profiles so stores and picks can create totally unique offerings for their members and customers. Maker's Mark 46 was one of the first successful experiments in this stave finishing process, and has become a constant release from the brand.
The Maker's Mark Wood Finishing Series began in 2019 with the release of RC6, a distillery-specific stave profile they sent to the public has a Limited Release. In 2020, they followed up RC6 with an even more impressive SE4 X PR5. The 2021 release has just been announced with a stave profile titled FAE-01.
Maker's Mark FAE-01
The 2021 Wood Finishing Series FAE-01 is set to launch this spring and is distilled using a smaller-than-normal 36-inch copper column still, a small rectifier, and (as always) is non-chill filtered. Master Distiller Rob Samuels tells us that this process, combined with their wheated bourbon mash bill, results in a whiskey with more Fatty Acid Esters, which are supposedly responsible for the tobacco and dried fruit notes (like cherry) that are often present in classic Maker's Mark whiskey.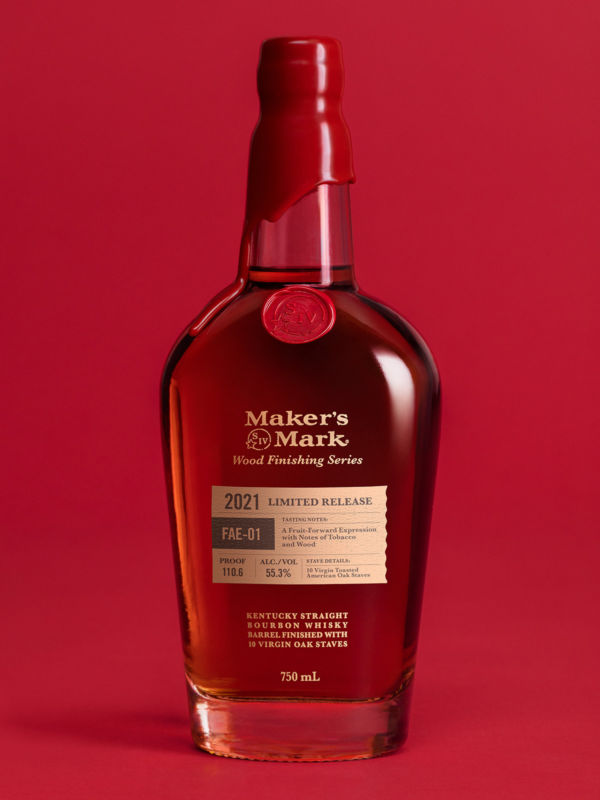 The Wood Finishing staves used are, according to the label, 10 virgin toasted American Oak staves. According to Rob's email to Ambassadors and the official release, these staves were only seared on one side, the other side left raw. He assures us this is a first for the distillery, and helps add to the unique flavor of Maker's Mark Wood Finishing Series FAE-01, which is described as tasting "just like a barrel warehouse smells."
Maker's Mark Wood Finishing Series FAE-01 is bottled at cask strength, 110.6 Proof (55.3% ABV). It's already hit the NC ABC Price List with a retail price of $59.95, right around MSRP. These bottles tend to fly off the shelf, so keep an eye out for them as soon as they are released, which should start as soon as March.
Maker's Mark FAE-02
Maker's Mark Wood Finishing Series FAE-02 promises the same unique distilling method, but the stave finishing process will surely be a bit different. These cousin (or sister) releases will be exciting to compare side by side. We'll update this post when we know more. Subscribe to our email list if you want to stay in the loop.
Featured Maker's Mark Releases