Maker's Mark has put a stamp on the bourbon industry with their wood-stave finished barrels. With Maker's Mark 46 being a permanent addition to the whiskey brands distribution, and a robust, unique system for barrel selections, Maker's Mark built a platform for unique expressions of their popular bourbon. In 2019, they introduced their first limited release in Maker's Mark RC6. This was followed in 2020 by SE4 X PR5 and the double release in 2021 of FAE-01 and FAE-02. 2022 will follow suit with another double release: Maker's Mark 2022 Wood Finishing Series BRT-01 and BRT-02.
Maker's Mark Wood Finishing Series BRT-01 and BRT-02 are not yet "formally" announced by the distillery, but label permits have been posted by the Alcohol and Tobacco Tax And Trade Bureau (TTB), so we can say with confidence that it's coming. We'll share what we know so far, and update this page with more information as it becomes available.
Maker's Mark Wood Finishing Series 2022
Starting with the back label, we already learn a lot about the the release of both Maker's Mark BRT-01 and Maker's Mark BRT-02. According to the label copy, the 2022 Wood Finishing Series is "inspired by [Maker's Mark's] unique history of barrel rotation." That is, the brand claims 200,000 hand-rotated barrels every year. We might assume "BRT" stands for "barrel rotation".
The difference between BRT-01 and BRT-02 appears to be the time and location of the barrels. BRT-01 will have a profile that focuses on the aging of barrels during their first three years stored at the top of the rickhouse. As the label indicates, these barrels experience larger temperature swings/variability, which makes the wood of the barrel expand and contract accordingly. This action pulls the aging whiskey in and out of the barrel, imparting unique flavors, "caramel and a hint of toastiness", as the label says.
There's also a tease here for Maker's Mark BRT-02, focusing on the years when the barrels have been "rotated" to the lower levels of the aging warehouse. The label tells us that these barrels age in a cooler, more consistent temperature location that yield "darker, heavier characteristics", and a promise of fruit and chocolate.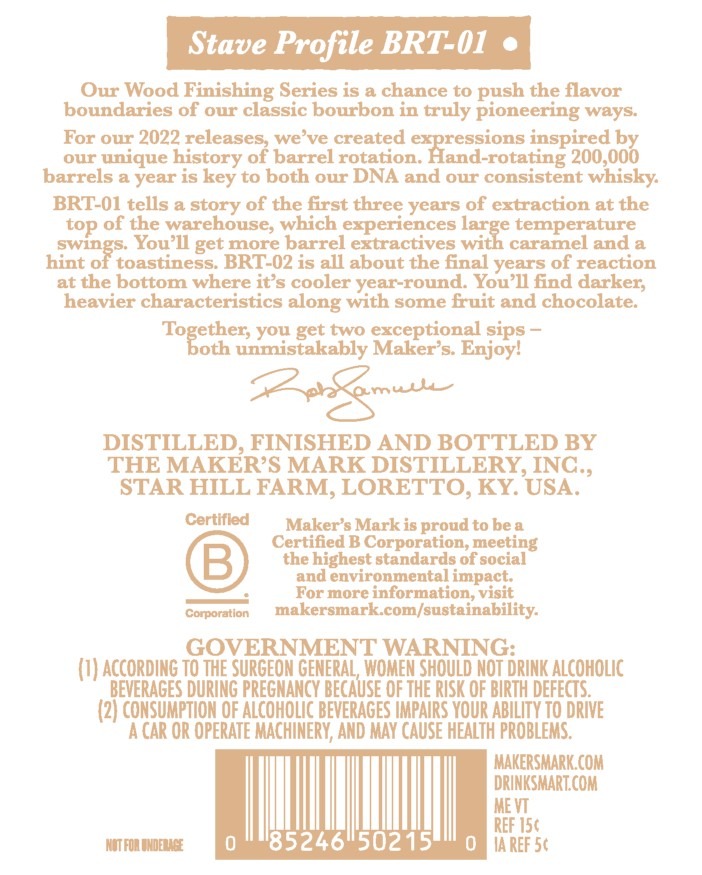 Maker's Mark BRT-01
These labels are technically only for the Maker's Mark BRt-01 release, (though, as we've seen, the BRT-02 is mentioned in the back label). The front label gives us some information that's more specific to the first Wood Finishing release of 2022.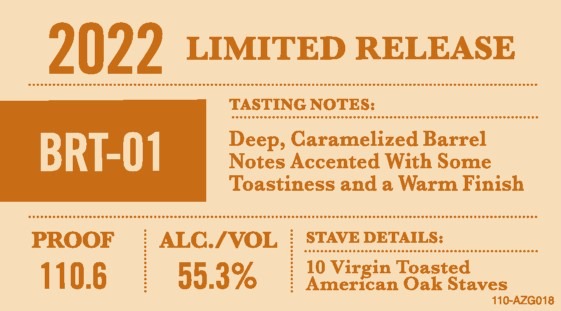 Often times label items like Proof and Alcohol By Volume (ABV) are allowed to be "placeholders" in the label approval process, but that's mostly true for bottles that have variable proofs, like cask-strength releases. For now, it's relatively safe to assume that Maker's Mark 2022 Wood Finishing Series BRT-01 will be bottled at 110.6 Proof (55.3% ABV). The front label also tells us that the stave profile for these barrels is a simple 10 Virgin Toasted American Oak Staves. The focus on this bourbon is the warehouse location, so it makes sense we'd see a simple baseline of wood staves.
The tasting notes on the label read as follows"
Deep, Caramelized Barrel Notes Accented With Some Toastiness and Warm Finish
Wood Finishing BRT-01 Release Date
We don't have any info on specific release dates, yet, but we can expect the BRT-01 to come this spring, and the BRT-02 to follow in the fall.
Maker's Mark Wood Finishing BRT-01 and BRT-02 In North Carolina
North Carolina residents can rest assured that BRT-01 and BRT-02 will hit shelves in North Carolina. As far as limited release bourbons go, the Maker's Mark Wood Finishing Series bottles haven't been particularly difficult to find in past years. Watch our State Warehouse Stock Tracker to see when they hit the state warehouse, and then expect one or two weeks to hit stores.
Also from Maker's Mark: