It's that time of year again. Whether you're shopping for a whiskey enthusiast or building out your own wishlist, thinking of Christmas presents can be difficult. Here's a simple, efficient list of essential whiskey-related gifts (including booze) to keep your eye out for.
Scotch Malt Whisky Society Membership and Tasting Kit
I recently reviewed my own experience with The Scotch Malt Whisky Society, and I stand by my opinion that it's a great club and value. If you're looking for something in the world of scotch whisky, a membership to The Scotch Malt Whisky Society will give you or your giftee access to their world class concierge service and exclusive hand-picked, single cask, cask strength scotches in every region and flavor profile.
You can also bundle their membership with the super classy Tasting Kit which comes with beautiful glassware and three 100mL bottles of different scotches that they'll love to taste and compare. If you're looking for a whiskey sampler gift for anyone who loves scotch, or maybe just likes to try new whiskey, I can't recommend a membership to the Scotch Malt Whisky Society enough. See for yourself.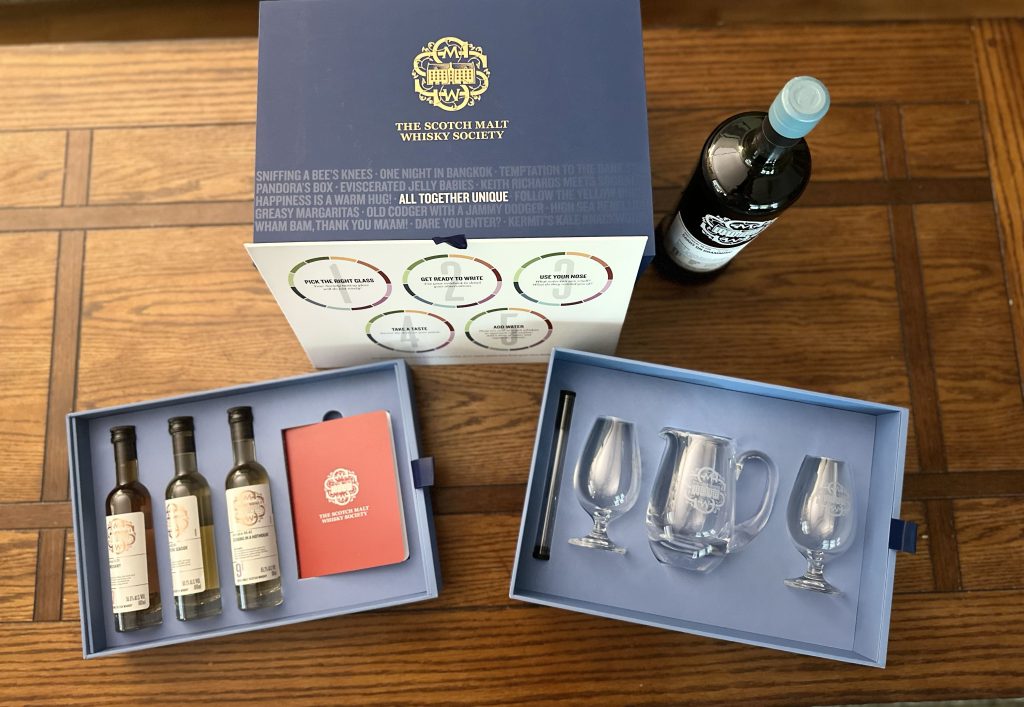 Bourbon Sampler Gift Box
The first of two sampler gift boxes in this list, a bourbon sampler gift box can make a great gift for anyone who likes a strong drink. A good whiskey sampler gift will include all sorts of whiskeys, including bourbon, scotch, and Irish whiskey.
BroBasket offers a Bite of Bourbon Sampler Box that includes tasters of Woodford Reserve, Balcones, Larceny, Elijah Craig, Maker's Mark, and Bulleit bourbons (and some snacks and glassware). Check out the entire box and see if it's the right idea for your gift.
You can also fill a stocking with mini bottles/airplane bottles, usually found behind the counter of your local liquor or ABC store.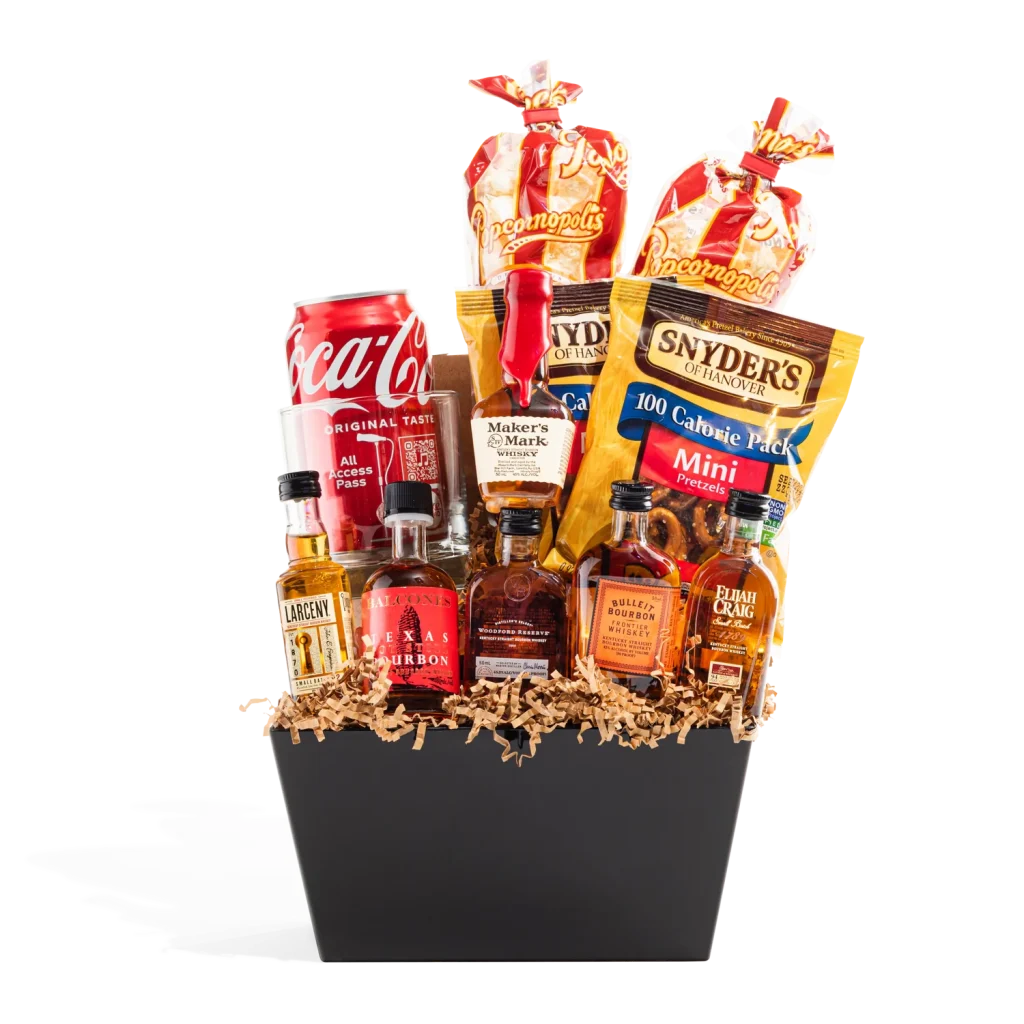 Cocktail Bundles and Whiskey Gift Boxes
Everyone loves a great whiskey cocktail. Bundles are a great way to help a home bartender stock their shelves with both liquor and mixers. You can go down to your local liquor store and do the shopping, or place an online order for a bundle that's been curated for any number of easy, classic cocktails like Old Fashioneds, Manhattans, Whiskey Sours, and more. You can go with big bottles, several small bottles, or any number of combinations depending on who you're shopping for and what your budget is.
Nestor Liquor offers a Woodford Reserve Old Fashioned Cocktail gift box (in a wooden crate or an old bourbon barrel. It comes with a fill 750mL bottle of Woodford, as well as cherries, Angostura bitters, and some other garnishes and treats. See the whole box.
While you're at it, make sure to check out various cocktail bar kits (shakers, muddlers, jiggers, etc.) so your aspiring bartender can mix their new spirits accordingly.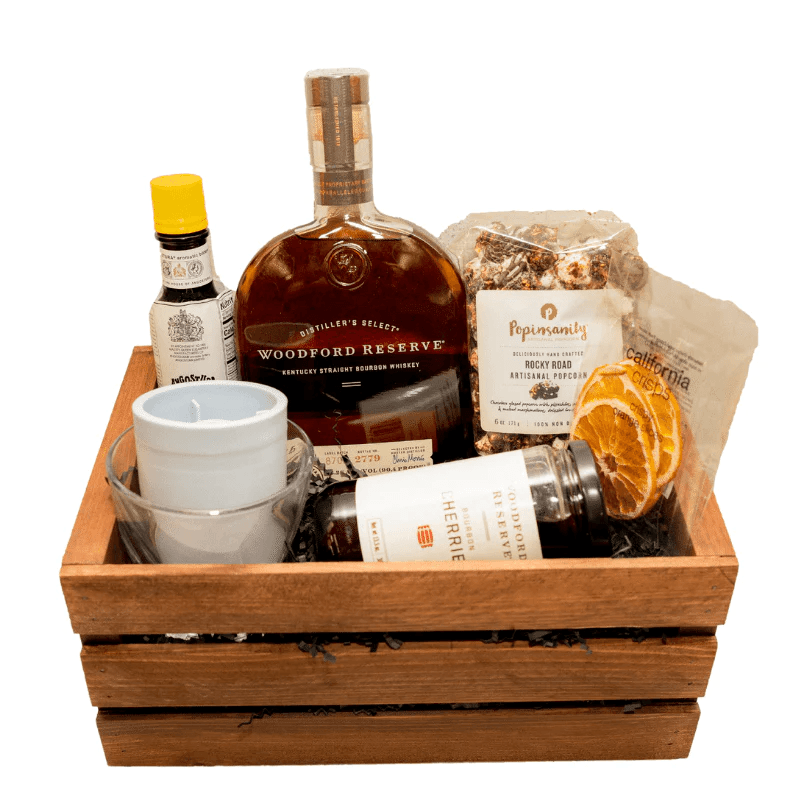 Woodford Reserve Old Fashioned Cocktail Gift Set
DrnxMyth
If cocktails are the right thought, but you don't think active bartending is the answer, DRNXMYTH offers ready-to-drink cocktails with fresh ingredients and great spirits. The unique "Twist and Shake" design allows them to keep these cocktails fresh and vibrant by separating fresh ingredients from the hard spirits until it's time to drink. There are lots of great cocktails and mix packs to choose from, so you can find cocktails for anyone you might be shopping for.
I've tried the the DRNXMTH cocktails several times (they sent me a few, but I liked them so much I ordered more). My top recommendations for holiday whiskey gifts would have to be the Whiskey Sour or the Bourbon Berry Smash. The pro-tip, though, might be to order mix box (like the Full Bar Bundle), and divvy them out among friends and white elephant parties as appropriate.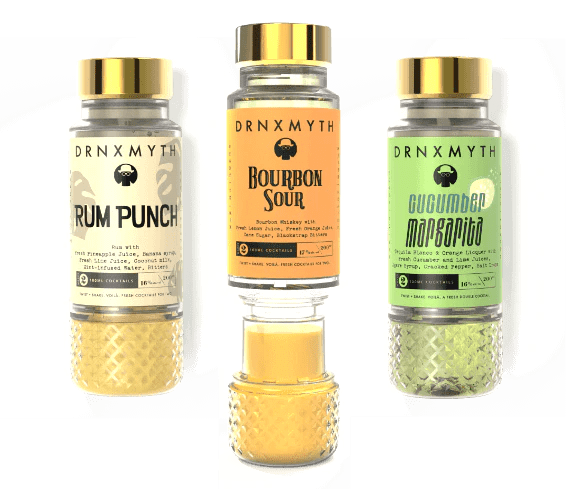 Mocktails, anyone?
Sticking with the cocktail theme for a bit, it's worth mentioning that there are dozens of great options out there for people who like a nice drink but want something alcohol free. Spiritless, for instance, offers full bottles of award-winning non-alcohol spirit-alternatives, like their Kentucky 74. Their spirits are actually distilled, but still zero-proof, so they make a great substitute for any cocktail you'd usually use. Shop Spiritless Gifts.
Soul Spirits offers both cocktail kit boxes and subscriptions, so there's always another booze-free option to look forward to. Their kits come with everything you need to make non-alcoholic versions of your favorite cocktails, so it's the perfect gift for expectant mothers or those trying to cut back.
Just Whiskey
Of course, at the end of the day, the best gift for a whiskey enthusiast is just… Whiskey. If you'll be local to the person, just swing by an ABC or liquor store and pick up something you think they like. Don't know what their favorite is? That's okay! A good bottle of whiskey is always a welcome gift. You can also order whiskey online and have it shipped to many locations in the US, including North Carolina, from retailers like Nestor Liquor.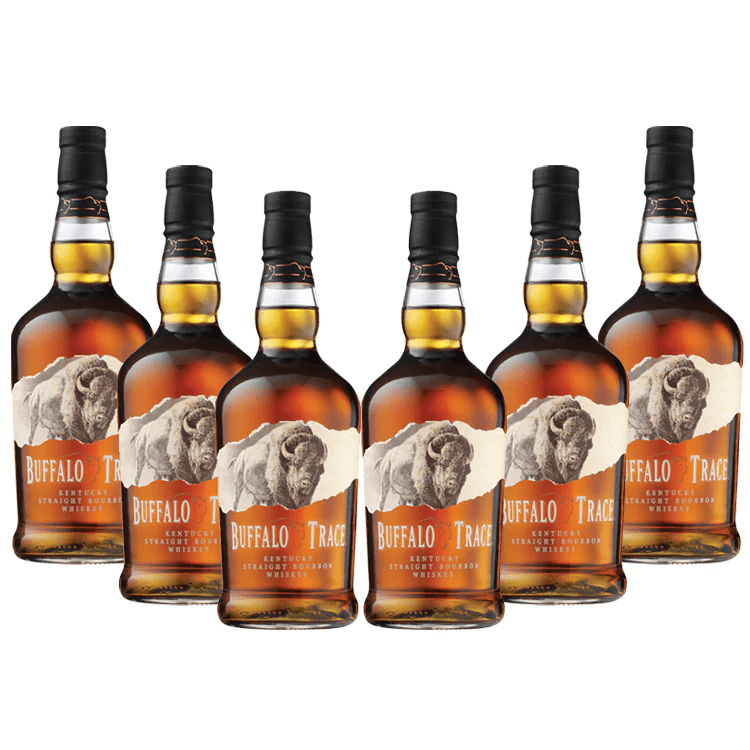 Buffalo Trace 6 Pack (Half Case)
All Our Recommendations