It seems like box subscriptions are a dime a dozen these days. So what sets The BroBasket apart? Well, this is a whiskey website, after all, and The BroBasket has some of the best whiskey sampler boxes available. This goes beyond some flimsy subscription where you don't know what you're getting. These gift boxes are UNREAL. Seriously. The prices are good, the packaging is exquisite, and the options are far and wide.
Bourbon Sampler Gift
Now it's important to note that this is NOT a subscription box. Think of this as the 1-800-Flowers or Edible Arrangement, but for those of the masculine nature. Certainly there are plenty of women who would also enjoy these boxes, but from a marketing perspective the target demographic is clearly guys.
So, when you're thinking of a Congratulations, or Thinking of You gift for men, BroBasket is the best alternative to flowers or chocolates (but you might still find some chocolate in a BroBasket). It's the ultimate delivery gift for friends and relatives you might not see in person, or want to deliver something to the office. For birthdays, Father's Day, Valentine's Day, and anniversaries, these gift boxes are some of the best gift options out there — and I promise I'm not just saying that. Let's take a look at some options, especially their Whiskey Sampler boxes.
BroBasket Whiskey Boxes
Ultimate Whiskey Sampler from BroBasket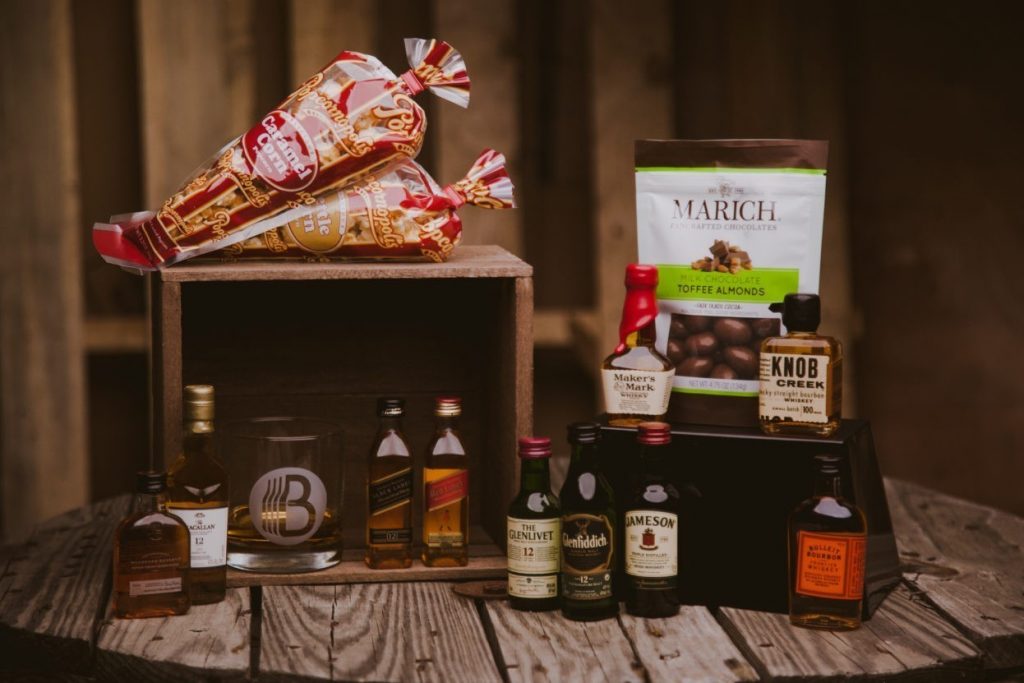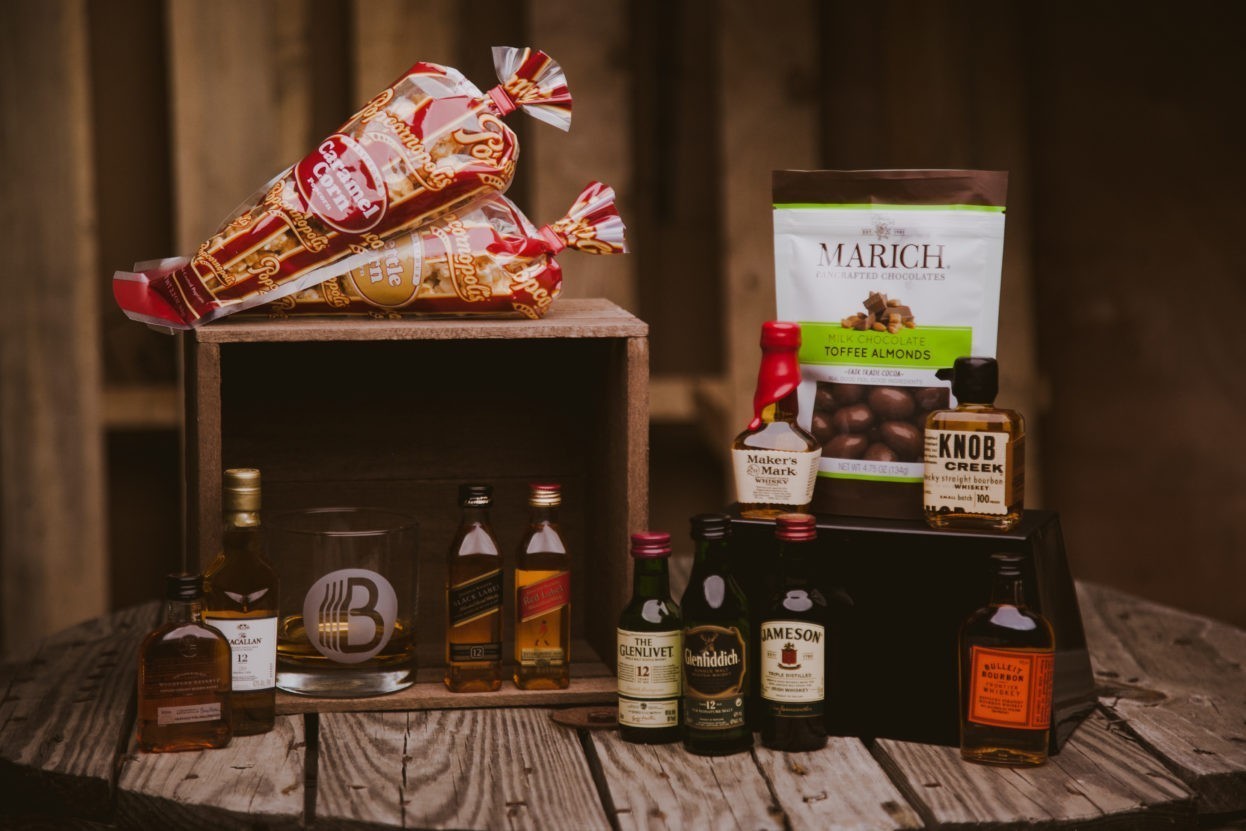 The best value in gift baskets is definitely the BroBasket Ultimate Whiskey Sampler Box. For only $99, your giftee will gets TEN different whiskeys, from Scotch to bourbon. That's ten different whiskeys in 50ml sample bottles, which allows the receiver to enjoy, share, and compare bourbons like Woodford Reserve and Bulleit, as well as scotches like McCallan Double Cask 12. You've got to see the full list. It also comes with snacks and tumbler.
You could also go with the slightly more affordable Bite of Bourbon Basket. Fewer drinks, but a great haul for bourbon lovers.
Craft Whiskey Gift Basket
If you're looking for something more unique, whether as a gift or for yourself, a craft whiskey gift basket could get you there. The Westland Single Malt Collection is a great option to start with. Westland craft distillery is located in Seattle, Washington and this basket samples the American Oak, Peated, and Sherry Wood expression of this amazing American Single Malt Whiskey. Each of these baskets comes with three 200mL bottles, an 11oz whiskey tumbler, and a spherical ice mold.
Man Cave Box
So, BroBasket's whiskey boxes are highly configurable and let you build just the right gift. Let's talk about the perks of the BroBasket Man Cave Box. It comes standard with a 750ml bottle of Maker's Mark. That accounts for $35 of the $120 price tag on this box, and if you want to swap out the bourbon for something more affordable (or more expensive) you can do that, too. In addition to the bourbon, this BroBasket also comes with:
Two rocks glasses
A flask
Whiskey stones
Playing cards
Beef Jerky
Now, in my opinion, that's all well worth the price tag.
All to say, I think BroBasket is one of the best new trends in the gift-giving world. It's a great way to find whiskey online, customize a gift, and deliver just the right homage to a loved one. I highly recommend browsing their site and seeing everything they have to offer, from craft beer to whiskey to booze-free boxes.