Today rumors started flying about a new Special Release from Weller, with pictures of an orange-label wheated bourbon called Weller Single Barrel. What do we know so far, and will this be coming to North Carolina?
Weller Single Barrel Bourbon
The rumors of Weller Single Barrel started circulating today after an image of a new label request was shared. The label indicates both 46.5% ABV or 97 Proof — two things that don't actually make sense together. We'll have to wait for an official word from the Buffalo Trace Distillery before we'll know for sure.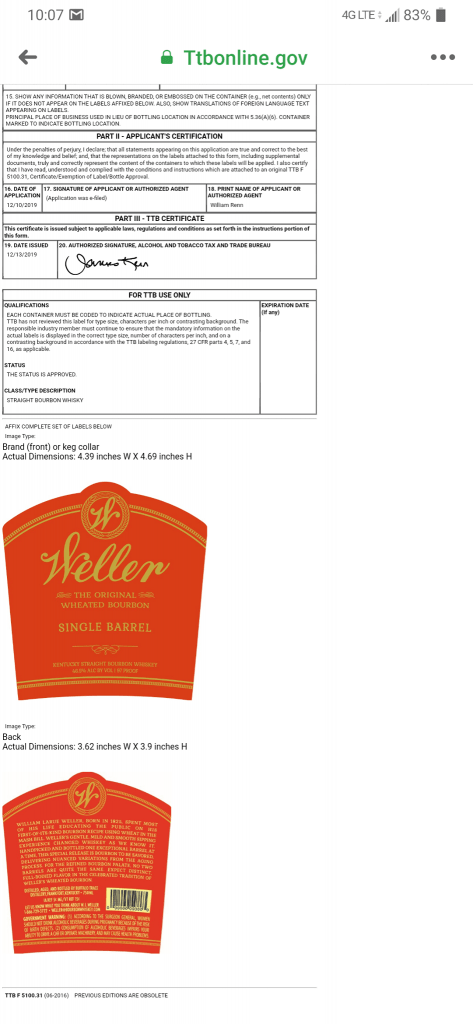 Weller SiB Release Date
There's no official word on the release date for Weller Single Barrel, but keep an eye on this post and we'll update as soon as Buffalo Trace lets us know.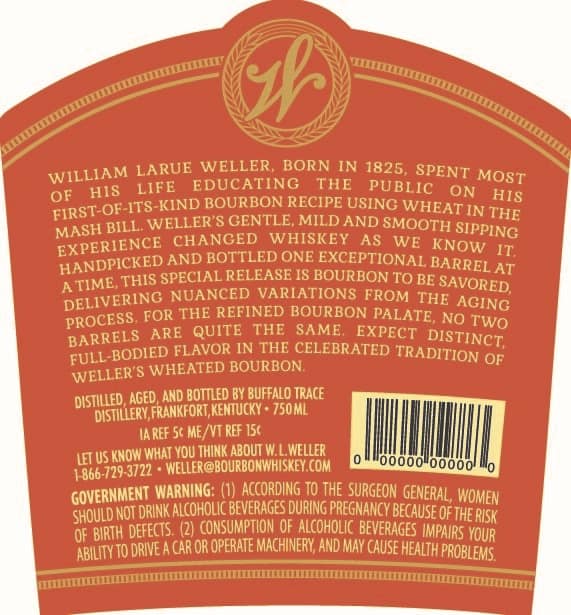 According to the label text, though, this does appear to be a "Special Release" bourbon (one "to be savored"). This might indicate that it won't be a typical shelfer.
North Carolina has a rocky history with Buffalo Trace Distillery and their products, especially in the Weller line, come highly allocated. We imagine this will hit the shelves sometime in 2020. We'd love for it to be a wide enough distribution that you might be able to walk into your local NC ABC store and grab a bottle, but we aren't holding our breath.
What This Means For Other Weller Products
Everything around this new bottle from the Weller line is speculation. Some have said this bottle might replace both the Weller Antique 107 and the Weller 12 Year. If the Weller Full Proof becomes a more widely distributed staple, this could make sense. Weller Full Proof is only 7 proof points higher than the 107, we'd still see similar bottles of Weller, just with different colored labels.
It could also mean that Buffalo Trace is trying to getter more Weller products on the shelf and in the hands of store owners, potentially to create more buzz for BTAC. We're kind of hoping for this to be the case (don't want to miss out on that Antique 107 goodness). Mostly, however, the Weller SiB seems like a strange addition to the lineup.
Continue to check back here for more information on Weller Single Barrel as it becomes available. We'll hunt it together.
Related Products

Old Weller Antique – $50
Kentucky. Sweet nose with a hint of caramel. Tasting notes of honey, butterscotch, and a soft woodiness with a smooth finish.

W.L. Weller 12 Year Old – $75
FIVE STARS SPIRIT JOURNAL, GOLD MEDAL 2003 INTERNATIONAL WINE AND SPIRITS COMPETITION. Lusciously toasty with an animated bouquet that has top notch bourbon written all over it.

William Larue Weller Bourbon – $755.95
GOLD MEDAL- 2008 SAN FRANCISCO WORLD SPIRITS COMPETITION. This whiskey is uncut, unfiltered wheated recipe bourbon! The barrels were aged twelve years and bottled at barrel strength.