'Tis the season for gift giving. In the spirit of spirits, consider some unique gifts for your whiskey friends, tasting group members, or a person in your life who you know loves bourbon. I've decided to do the 2020 Whiskey Holiday gift guide "superlative" style. View the table of contents below, or just scroll through to find the perfect gift for your person. You might see some gifts more than once, but I'm also shooting for a lot of good variety.
2020 Holiday Bourbon Gifts
Four Fast Whiskey and Bourbon Gifts
If you came here for a quick gift idea, I get it. Sometimes you just need a quick gift you can order and deliver, and not have to think about it too hard. These are tried-and-true, and no recipient will be let down.
Bourbon Trail Whiskey Glasses
Most whiskey enthusiasts have a stock of Glencairn glasses. Bourbon Trail glasses are a unique alternative that they may not have. They are designed speicifically for bourbon, too, as opposed to the Glencairn which was originally designed for scotch. A set of Bourbon Trail tasting glasses is an affordable gift that cannot fail. Every whiskey lover I know wants more glasses.
Flaviar Tasting Membership
For a higher-end quick whiskey gift, consider a Flaviar gift membership. Flaviar is a great gift if you aren't totally sure what they really want, because it lets them be in control of their experience. The value is pretty good, especially as a gift, and it's a gift that will keep on giving for a while.
With a Flaviar membership, your gift recipient will get a quarterly tasting box of whiskey samples, as well as credit towards a full bottle of their choice.
Pappy & Co. Bourbon Barrel Fermented Cigars
Hobbies rarely overlap like whiskey drinking and cigar smoking. The cigar choices from Pappy & Company have a little something for everyone. From classic cigars to barrel fermented cigars, these pair perfectly with your recipients favorite bourbon.
You have to be 21 to buy these, just like liquor in the United States. Shop all seven cigar options here.
Whiskey Tote Bag
If your bourbon enthusiast likes to carry bottles on trips or to tastings, a good carry tote is a must-have bourbon accessory. Carry two or three bottles and maybe some glassware as well. They can show up to any party, gathering, or whiskey tasting fully prepared for the evening.
We recommend something with lots of padding to keep your precious whiskey safe. Shop options now.
Best Barware Gifts for 2020
These gifts are for someone who likes to host and keep a nice bar. Whether it's in a kitchen, bonus room, or man-cave, a home bar is a great entertaining space. Help your giftee outfit their bar with one of these great gifts.
Glass Decanter Set
Decanters are perfect for serving a good bourbon at a fancy party, or mixing your own Infinity Bottle. A good decanter set will come in etched glass or lead-free crystal, and will usually contain the decanter and 2-4 rocks glasses.
We recommend this simple, sub-$40 decanter set, but you can browse a wide variety of good options on Amazon.
Pappy & Co. Barrel-Aged Old Fashioned Cocktail Mix
Every good bar keeper needs the right mixers. Bourbon and whiskey are great neat, of course, but it's nice to be able to mix a fancy cocktail every one in a while.
This Barrel-Aged Old Fashioned mix from Pappy & Co. is a great simple-syrup mixer. The mixing juice was aged in actual Pappy Van Winkle Barrels and promises to make a quick delicious cocktail.
Bartender Cocktail Set
No good home bar is complete without a good bartending cocktail set. While many of our readers drink their bourbon neat, it's always nice to be prepared to mix a great cocktail, shaken or stirred.
The crucial elements of a good cocktail set include a shaker, stirrer, strainer, and jigger. We're recommending this modern kit that also includes a muddler, tongs, and more.
Bourbon and Whiskey Hats, Tees, and more
Gifting clothing can be hard, but the right piece for the right person can be a wonderful gift. Hobbyists love to tout their love for whiskey. It can help strike up a conversation or share your personality.
Glass Half Full Whiskey Hat
This hat is one of our personal designs, and you can buy it right here on NC-Whiskey.com. The Glass Half Full design features a Glencairn-style whiskey tasting glass with a pour of whiskey in it. Here, you can see it embroidered on a structured Richardson 112 mesh trucker hat.
This design is also available on other products, so shop our full store for more inspiration.
Pappy Van Winkle Long Sleeve Tee
You may not be able to get your loved one an actual bottle of Pappy Van Winkle, but you can get them the t-shirt. These tees sport the Pappy Van Winkle 23 Year bottle label on a dark heather grey long-sleeve t-shirt. Pappy & Co. has great shop of gear like this, and you can shop it all on their website.
Whiskey Weather Sweatshirt
Perfect for nights on the back porch sipping whiskey with friends. Bourbon and chilly weather are best friends, so stay warm with a special drinking sweatshirt. Also available in hoodies and tees, this is a great wearable gift for whiskey drinkers.
You can shop all the various styles and find the perfect fit for your gift recipient on Amazon.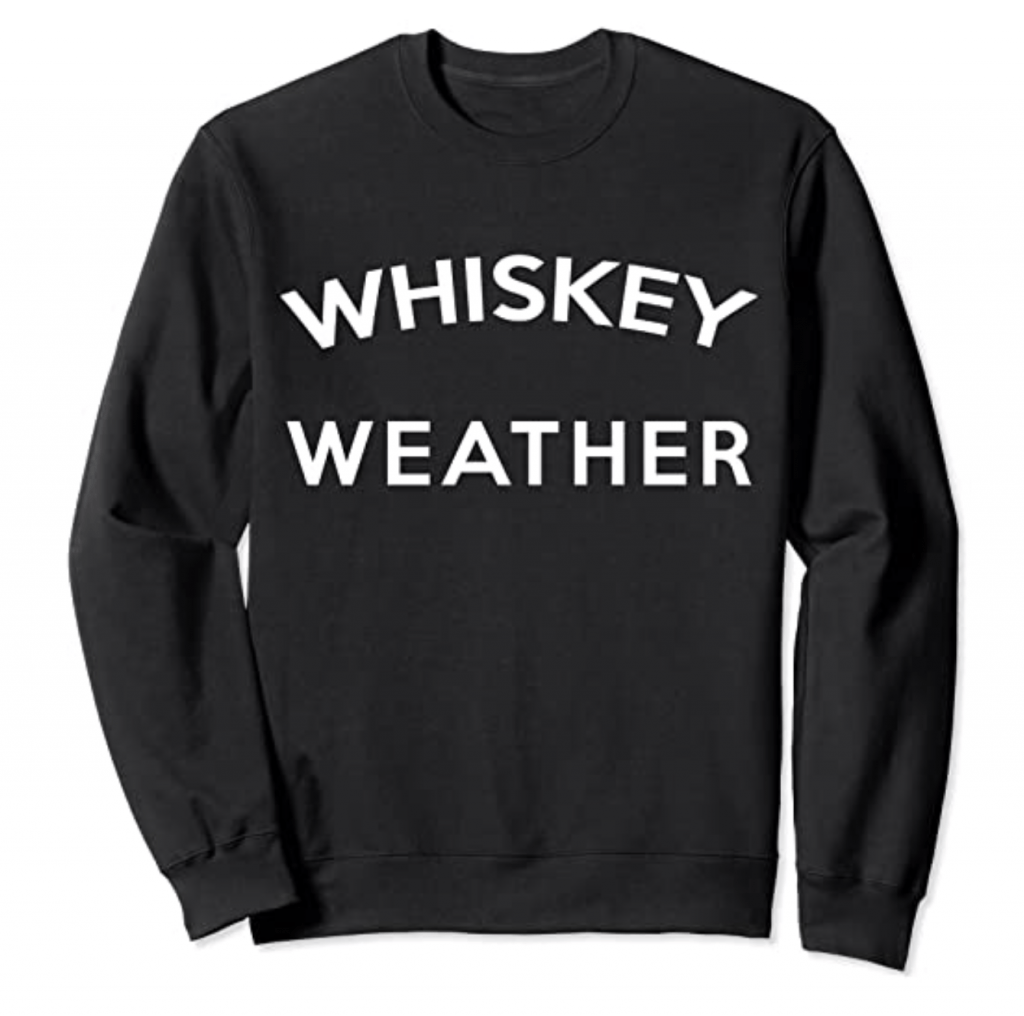 These are just a few quick gift ideas to get you started. Of course, a nice bottle of bourbon always makes a great gift. You might be able to find something unique online, or shop your local liquor store.
What are you getting your whiskey friends? Let us know in the comments and maybe we'll add them to the list!